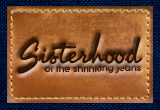 Not sure how it happened, but I'll take it:
I'm down 1.8 from last week!
And not only did the scale show 1.8 lower than last week, but I forgot to step on the scale till 12:30 this afternoon, so this is not even my
first-thing-in-the-morning
weight! What a happy mid-day surprise!
It's a great weigh (haha, get it?!) to go into the new Sisterhood challenge with ~ mostly because it's lower than I thought my August 1 starting weight would be! I've decided not to participate on a team this time though, despite it being a team challenge. That strategy seems to bring out my self-destructive tendency more than any other, and I've hated myself for letting down my teams in the past. So I'm goin' this one alone, but true to my word from last week, I have decided on a plan and am starting to follow it already.
The plan is really pretty simple: make sure I get a minimum of 5 servings of fruits and veggies in each day.
And they must be SOLID FOOD, not liquids!!
The temptation is to run out and buy a bunch of V8 and V8-Splash type juices and just drink my vitamins, but what I'm going for here is not actually so much the vitamins, minerals, and fibre, but the feeling of a full stomach. You know, so there's not as much room for all the fat- and carb-laden stuff in my diet!
With fresh produce starting to come out of the garden, this should be relatively inexpensive right now, but once that's over, I think I'm going to do what I've been talking about doing for YEARS already and start buying prepared veggie platters at the grocery store each week. I've done it once or twice in the past, and then it always gets eaten. And yet if I pay a little less for whole veggies and bunches of veggies, almost invariably half of it ends up getting thrown out because it got neglected and went moldy. Blecgh.
So that's my marvelous plan. I just need to make myself up some cute little printed-out charts to keep track and make sure I'm doing what I promised to do! They'll be ready when the challenge starts on Sunday!!